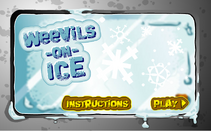 Weevils-on-ICE! was a single-player mini-game that was originally found in Rott's Fat Mound, before being relocated to Kip's Scrapyard after the former's removal. Weevils-on-ICE! has been unavailable since the removal of Kip's Scrapyard.
Gameplay
In Weevils-on-ICE!, the player controls a green weevil and must avoid evil weevils. The player must survive as long as possible, while also killing with snowballs, as many evil weevils as possible.
Rewards
The player could have earned mulch as a reward for playing.