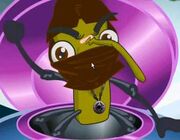 Rigg has some nests to rebuild, but still this article needs to be rewritten, as well! It is recommended you do that before Rigg rages.
Weevil X is an agent of W.E.B. He wears a brown mask, so it is hard to tell what he is meant to look like.  He is in fact the second-in-command of the W.E.B., the first-in-command being Octeelia, known as Lia.
He appears in the following missions:
Raiders of the Lost Bin Pet
The Hunt for Weevil X
Showdown at Tycoon TV Towers
LAST SIGHTED AT: Tycoon TV Towers, kidnapping Posh, Big Weevil and Bunty at the BINFTA awards ceremony in the Spider-Mech, one of the WEB's many weapons.
He wears a brown mask and has brown eyes. He also has a plaster where his nose meets his face, and has a chain with the WEB logo on it (a spider.)He kidnapped Lady Wawa the Bin Pet and brought her to the Bin Pet Temple,only to be stopped by SWS and Gam!
Ad blocker interference detected!
Wikia is a free-to-use site that makes money from advertising. We have a modified experience for viewers using ad blockers

Wikia is not accessible if you've made further modifications. Remove the custom ad blocker rule(s) and the page will load as expected.