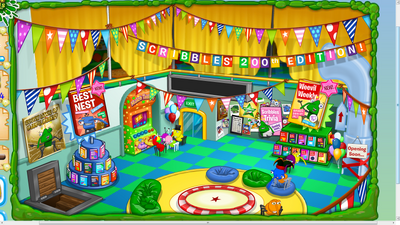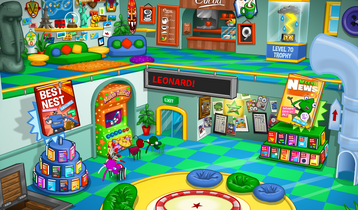 Weevil Post is a building located on the same stretch of ground as Rigg's Movie Multiplex and Figg's Cafe. 
Inside Weevil Post, you can read Weevil Weekly and Best Nest magazines. There is also a mulch tastic booth to enter the annual Mulch Tastic draw. You can also chill upstairs in the lounge room.
Magzines
Magazines are made by Bin-Tycoon so they can earn Mulch! This can also increase their popularity.
Magazines can also have STAR ratings out of 1 - 5. This is what a standard Magazine would show when you would want to view a weevils magazine.
The Creator of said issue, catches the attention of a viewer by either their front cover, or name.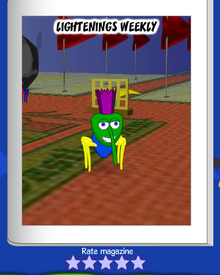 History
Weevil Post was first introduced in 2008 as a place to enter Mulch Tastic, enter polls and send e cards.
When Weevil Weekly was introduced later on in 2009, it became the prime place to view Weevil Weekly.
When Best Nest was introduced in 2010, it was also available to view at Weevil Post.
Weevil Post then went through a small tweak, with the colours becoming less grainy (like much of the other places in Binweevils). The 'ecard' function was also removed, as was the in game polls that you could take part in.
On 23 August 2013, Weevil Post recieved a complete makeover as part of the celebration of Scribble's publishing the 200th issue of 'Weevil Weekly'. The outside was completely transformed from an upturned shoe box to a bright red building with flowers outside and a magazine stand to read other tycoon's magazines.
The interior was also completely transformed too. The picture will best describe the change. (The most obvious change being there is now seating areas downstairs, and it is a two storey large building)
The top floor of Weevil Post is a lounge room, where you can hang out with friends and grab a coffee. This was revealed in 2014(?).
Ad blocker interference detected!
Wikia is a free-to-use site that makes money from advertising. We have a modified experience for viewers using ad blockers

Wikia is not accessible if you've made further modifications. Remove the custom ad blocker rule(s) and the page will load as expected.