Rigg has some nests to rebuild, but still this article needs to be rewritten, as well! It is recommended you do that before Rigg rages.
Tink is Clott's best buddy, He is also in the Bin Weevils cartoons where Weevils chase him and Clott. It's not really Tink's fault for all these accidents though, it seems to be clumsy Clott's fault. Tink owns Tink's Tree which is where Peel Park And Kip's Scrapyards used to be before they got removed. Tink is a grey Weevil with three black antenna. Like his buddy Clott he sometimes does certain appearances in stuff. One Bin Weevil was very lucky to have Tink and Clott in their Nest. Tink is part of the Ink family. Tink is also a famous Weevil, like Clott. On the Kid's Choice BAFTA Awards Nest items they have Tink's face on! Tink is more like a grown up Weevil, unlike Clott,who is very clumsy and very silly. Still though,Tink and Clott are best buddies.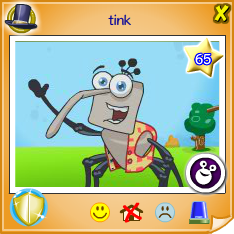 Ad blocker interference detected!
Wikia is a free-to-use site that makes money from advertising. We have a modified experience for viewers using ad blockers

Wikia is not accessible if you've made further modifications. Remove the custom ad blocker rule(s) and the page will load as expected.