Thugg is a drone and basic foot soldier who works for W.E.B. Rumour has it that he was brainwashed from being a normal Bin Weevil and turned into one of W.E.B's agents.
Thugg has 3 brothers which resemble him alot. And their names are also Thugg.
W.E.B Includes the following drones: Octeelia,Thug and Weevil X. Source: http://youtu.be/BKi3DPpTz04 (End of the video)
He doesn't do or say much, he just guards all of W.E.B's doors and spends time lurking in corner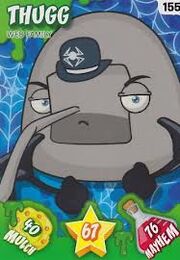 s. He never gets a break so that PROBABLY explains why he looks so fed up. He is not unique and has millioins of replicas with the same job.
In Danger at Dosh's Palace, the WEB made the Bin Weevil Changer turn Bin Weevils into Thuggs.
Thugg has appeared in all of the SWS Missions so far:
Raiders of the Lost Bin Pet
The Hunt for Weevil X
Danger at Dosh's Palace
Showdown at Tycoon TV Towers
Laboratory Lockdown
Thuggs can't even tell each other apart! You can find Thugg's Character Profile in the SWS HQ.
All Thuggs are grey.
They have a square head and an oversized body. He has a policeman's hat with the WEB logo on the front (a spider.)