Scribbles has decided that The Bin's Big Freeze is an
article stub
. You can help Scribbles improve The Bin's Big Freeze by
adding more content
.
The Bin's Big Freeze is an SWS Mission released around Christmas in 2014. It came back in 2015.
Overview
The WEB have snuck into Bing's Cabin and have frozen the bin with his Snowtron 5000, causing many problems. A news report has stated that the Bin was to become colder over the week. The SWS have sent their best agent to go to Bing's Winter Wonderland to foil the WEB's plot.
Rewards
When completed, you receive the Snowtron 5000 mentioned in the mission and a Giant Christmas Tree that can be placed in your Nest, which are only available for tycoons, and a trophy, which is available for everyone.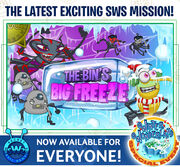 Ad blocker interference detected!
Wikia is a free-to-use site that makes money from advertising. We have a modified experience for viewers using ad blockers

Wikia is not accessible if you've made further modifications. Remove the custom ad blocker rule(s) and the page will load as expected.