Rigg has some nests to rebuild, but still this article needs to be rewritten, as well! It is recommended you do that before Rigg rages.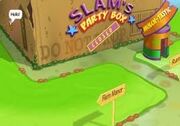 Slam's Party Box is the prime location in Binweevils were parties are held. When parties are not held, Slam's Party's box remains 'closed'.
Recently, however, Slam's Party Box has only been throwing Promotional Parties adveritising something. Which is a bit pathetic, really, because Slam's Party Box should only be for PROPER parties, but there we go.
History
Slam's Party Box has been around since Binweevils was first created. However, it did not hold it's first party until 2008. Slam's Party Box has looked just about the same since it was first created.
Unfortunately,Slam's Party Box has now disappeared.
List of parties held
Halloween
New year
Cat party
Book week
Please add more to list if you know any more.
Glitches
There is certain glitches but most common is how to get small at Slam's Party Box.
Ad blocker interference detected!
Wikia is a free-to-use site that makes money from advertising. We have a modified experience for viewers using ad blockers

Wikia is not accessible if you've made further modifications. Remove the custom ad blocker rule(s) and the page will load as expected.