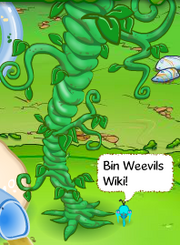 Overview
The
SWS
or
Secret Weevil Service
are a secret agency of protagonistic weevils. Their main aim is to save the bin from
WEB
(Weevil Extermination Borough). They are based in
Castle Gam
inside their HQ (Below). Before this, it was in
Flem Manor
behind the left statue.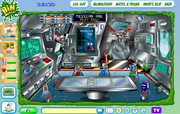 Their Symbol is similar to that of the old one but more metal. To get into the SWS click the safe in your nest and answer the quiz with well behaved answers.
Missions
Once you a member of the SWS, you can go on missions. There is a wide variety of missions which you can play.
During the 2012 Updates it was made that you had to be a tycoon to do many of the missions. Now you dont have to be a tycoon to do most of the Missions.
There are three types of missions. They are:
Extra Missions
The Lost Silver Knight
The Lost Blue Diamond Part 1
The Lost Blue Diamond Part 2
Totem of the Aztecs
Jack and the Binstalk
Trouble at Castle Gam Part 1
Trouble at Castle Gam Part 2
Special Ops
Raiders of the Lost Bin Pet
The Hunt for Weevil X
Danger at Dosh's Palace
Showdown at Tycoon TV Towers
Laboratory Lockdown
Case Files
Micro Mayhem
Scribbles the Secret Hunter
Other
List Of Mission (Order of Creation)
The Lost Blue Diamond Part 1
The Lost Blue Diamond Part 2
(Unfinished)