Rigg has some nests to rebuild, but still this article needs to be rewritten, as well! It is recommended you do that before Rigg rages.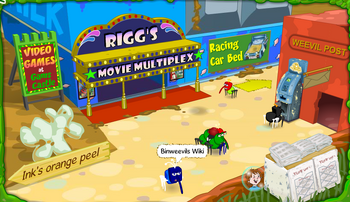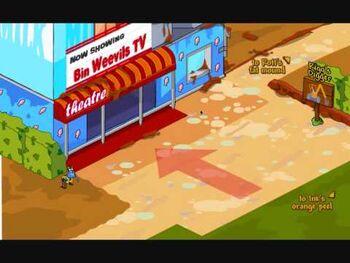 Rigg's Movie Multiplex (formerly known as Rigg's Palladium) is a popular place in the bin, which contains Rigg's Movie Multiplex and Weevil Post and is next to Figg's Cafe.
Rigg's Movie Multiplex
This is rather like tycoon tv towers, only you do not choose what episode of a show you choose. It is ment to be an egg cartoon.
The videos are for Tycoons only, and you can watch...
~Binweevils (The short Cartoons)
~Nickelodeon
~Cartoon Network
~BWTV (TV shows made by binweevils.)
Inside Weevil Post, you can read Best Nest (and formerly Weevil Weekly).
You can view other people's magazines on the magazine stand outside, and also at the shopping mall.
Figg's Cafe is located next to Rigg's Movie Multiplex. It is the main restaurant in Bin Weevils (Aside from Tum's Diner.) You can order food from other weevils, or even become a waiter or waitress and serve your friends!
Apperance
In game it has a large cinema made from a milk bottle and an egg holder, adjacent to this is figgs cafe, in game a seperate place. On the other side of it there is a path to Flums Fountain and a advert for the Bin Weevils Magazine.Oppisite the cinima there is a magazine stand and a red box containing weevil post.
---
In the episodes, the cinema area has changed vastly. the mag stand, the pathway, and weevil post have gone, and figgs cafe is closer. Also, there is a large pole that is not seen or mentioned in the game but is pivitol in two episodes. The area appears to be surrounded with a wasteland of mulch, unlike the game where it appears to be be part of a city.
History
It has remained fairly unchanged during its history, exept for the addition of the magazing stand. As shown in the episodes, there may have at one point been a large statue that needed maintaining, most likely of either Rigg or Gong.