Scribbles has decided that Punt is an
article stub
. You can help Scribbles improve Punt by
adding more content
.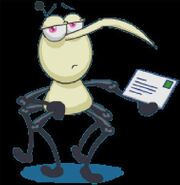 Punt is a very stuck—up weevil who first appears in Guest Starring Punt. He fancies himself a proper gentleman, even claiming that he out-poshes the Dosh family. Punt is great at golf and has potted more holes-in-one than any other Bin golfer in history.
Ad blocker interference detected!
Wikia is a free-to-use site that makes money from advertising. We have a modified experience for viewers using ad blockers

Wikia is not accessible if you've made further modifications. Remove the custom ad blocker rule(s) and the page will load as expected.