Peel Park is a location accessed via the Time Portal. It was popular for the 3D camera and games, though only now for nostalgic reasons.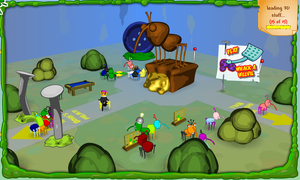 History
Peel Park has been around since Bin Weevils was first created. It has always looked just about the same (except in the old Bin, of course, when it looked much different.)  It was the home of Whack a Weevil and the daily crown and hunt bubbles were usually hidden there, where you could see them by using the 3D Camera. It then returned in 2014 with the addition of Ink's Orange Peel with the addition of the Time Portal.
Original Removal
In July 2011, Peel Park was removed and replaced with Tink's Tree, to mixed reactions. Many people were upset that Peel Park was gone, as this meant Flum's Fountain was the last 3D place left in Binweevils. Peel Park was the only old Bin place left. A few months before Ink's orange peel, and Kip's Scrapyard were removed.
Ad blocker interference detected!
Wikia is a free-to-use site that makes money from advertising. We have a modified experience for viewers using ad blockers

Wikia is not accessible if you've made further modifications. Remove the custom ad blocker rule(s) and the page will load as expected.