Grunt is the very last weevil of the Punt Family. He's a strange old weevil and never really speaks except from his grunting. He can be a grump sometimes, but he is very passionate about plumbing! No ones been enthusiastic about selling toilets in the entire history of toilets!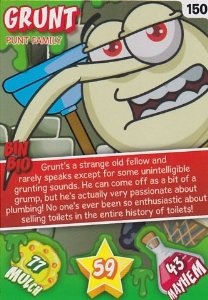 Card details
Mayhem= 43
Mulch=77
XP=59
Ad blocker interference detected!
Wikia is a free-to-use site that makes money from advertising. We have a modified experience for viewers using ad blockers

Wikia is not accessible if you've made further modifications. Remove the custom ad blocker rule(s) and the page will load as expected.