Rigg has some nests to rebuild, but still this article needs to be rewritten, as well! It is recommended you do that before Rigg rages.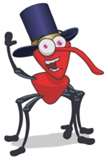 About
Clott stars in the Bin Weevils cartoons at Rigg's Movie Multiplex and had presented the Bin Weevils Show on Fun Kids during Summer 2014 . He is known to be quite clumsy & silly, always causing chaos everywhere he goes!
Clott is part of the Rott Family. He has a very, very high pitched expression when he speaks, and is also best friends with Tink.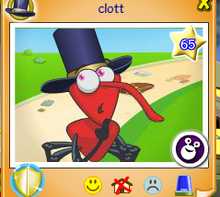 It is said that Clott has a crush on Posh, but when he tries to impress her it always comes out as a wibble! If you ever see him around the Bin, you'll definitely know it's him when you see his special profile card when you click on him...
The voice actor of Clott is Dexter Lund. Clott Is A idiot.
Places
Clott can be found over at Tink's Tree, fishing with Tink. You can learn a little more about Clott when you click on his.
In the past, Clott had Retired And Now Works At The Weights Room At Gympet. of "Clott's Garden Plots" at the Tycoon Island Plaza - Garden Inspector now owns the shop & it is now known as just "Garden Plots"
Events & Visits
Ad blocker interference detected!
Wikia is a free-to-use site that makes money from advertising. We have a modified experience for viewers using ad blockers

Wikia is not accessible if you've made further modifications. Remove the custom ad blocker rule(s) and the page will load as expected.