Rigg has some nests to rebuild, but still this article needs to be rewritten, as well! It is recommended you do that before Rigg rages.
Bings Grotto was a place near Club Fling during the first and second era updates. As part of the old Club Fling area, it was a 3D Zone, and it could get quite busy during peak periods. It was, coupled with the old Club Fling, the fifth busiest area in the bin
History
It was introduced in 2007, and it was the 'location' for
Bing
. It was part of the
Bin
theming, and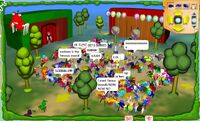 had a curious quadrilateral of usable space, unlike many of the other areas in the bin. In 2011, with the introduction of the
Bin-scape
, it was scrapped for a newer version of Club Fling. 
Today, its rough equivalent is the Pool Hall, although the latter has non-bin theming and doesn't have a weevil attributed to it, because it has become more attached to Club fling, the opposite of what has happened to Weevil Post and Figgs Cafe.
Trivia
The fact it is named 'Grotto' may be a reference to the Christmas theme of Bing.
Ad blocker interference detected!
Wikia is a free-to-use site that makes money from advertising. We have a modified experience for viewers using ad blockers

Wikia is not accessible if you've made further modifications. Remove the custom ad blocker rule(s) and the page will load as expected.