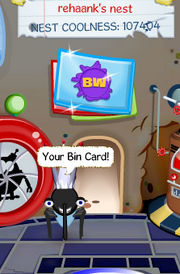 Your Bin Card
Your Bin Card is  a little daily reward. Your Bin Card has many rewards that you can earn! This is a very good way to get more mulch/dosh and get some great vouchers! There are many other prizes to. Your Bin Card is where you stamp the card everyday and get a prize. Once you finish once card, you move onto the next one, and then the process repeats until you go onto bincard# 16.
Rewards and Prizes
There are many rewards and prizes you can earn. Theese are things like:
Mulch
Dosh
Puzzle Piece
Exclusive Seeds
Nest Items
XP
Bin Tycoons Only
However, there are some rewards that can only be obtained by Bin Tycoon Members. Non-Tycoon Memebers can still get those prizes, BUT they will have to MISS the next reward.The rewards are: (for bin tycoons) Vouchers;puzzle pieces and mystery plants.
The Bin Cards
On your Bin Cards, there are many characters who represent the card. The order of those characters are:
Tink
Bunty
Posh
Dosh
Scribbles
Flam
Gam
Lab
Nest Inspector
Garden Inspector
Thugg (W.E.B)
Fling
HOW MANY Bin Cards are currently in the game?
There are currently 16 bin cards.